Last updated May 2011. Older News (pre 2004) - Click here
News

May 2011
Table Quiz Sunday April 17, organised on our behalf by the Theatrical Cavaliers Cricket Club, was a fabulous fun evening during which we ran out of time rather than prizes, and laughter and applause were the loudest noise. Cavalier John Daly had his head shaved by a brave Moira Ni Bhaoil for a total bid of €250 - cheap at the price, photos VIEW HERE, report and one video clip to come! Thanks to Dermot and the rest of the Cavaliers for a most wonderful evening! Special thanks to our committee and in particular Cathy Pollard, for all the hard work.

SAD NEWS May 9th - two good men died this past week. One, Ted Moynihan, was a member of PALS committee for many years. Michael Brady founded and was the first Chairman of Kildare branch AND Waterford branch, and both men were on the first National Exec committee set up under the Chairmanship of James Vaughan in 2003. Good men who will be missed. Our condolences to Carmel and Lucie and their respective families.


September 2008
The children are back at school, and the committee of PALS has had a few meetings over the summer and now has a proposed programme for the year, starting with a meeting in Tallaght Leisure Centre on October 19th, at which Dr. Raymond Murphy will talk about dealing with Parkinson's for a younger person. This promises to be interesting, and if you need instructions on how to get to the venue, email us, or go to www.aaireland.ie/routes and you can get a detailed description - almost traffic light to traffic light! - of the route door to door.

Bookmark December 14th for our Christmas get together, and start looking around for a pressie for our Kris Kringle. January 18th, February 15th, April 19th, May 10th and June 21st are the other dates to be bookmarked. We will be holding some of our meetings this year outside Dublin (with a bus for those of us who live in Dublin) - again check back for news which will be posted when dates and locations are confirmed.

January 2008
2008 may be a year of significant progress in the treatment of Parkinson's. Over the last few years:
We have had Requip and Mirapexin being tagged as neuroprotective, slowing down the progression of Parkinson's.
We have had Stalevo, a combination of Sinimet and Comtess, which has dramatically improved the lives of many, ironing out the highs and lows and reducing the incidence and severity dyskinesia and offs in this way.
We have had Tasmar relicensed.
We have had Neupro, the first transdermal dopamine agonist, Azilect, another MAOI, Duodopa, the new levodopa delivery pump system (although as yet only a few have been fitted with this).
We are seeing DBS being offered now at an earlier stage, with Medtronic literature telling us to "Do it Sooner".
And finally we are seeing the start of successful gene therapy - albeit at an early stage - which could mean that in ten years approximately, all going well, we might see the demise of severe Parkinson's... or of Parkinson's...


September 10, 2007

David Magennis is handing over the leadership of PALS to Sinead O'Kane. SInead, a national school principal, has Parkinson's herself, and so understands the journey, walks the walk, so to speak, and we welcome her on board!

David Magennis, who founded PALS, is now our honorary President, and will gradually wind down his involvement in the day to day running of the group, with final handover after the PALS Sponsored walk - our 10th - on April 13th, but David will continue to handle PALS phone calls for the moment, and as always, will be available to listen and advise.


March 20th, 2007 - Home is the Hero!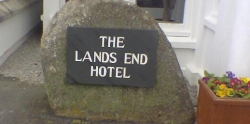 The photo shows Land's End Hotel and was taken at the end of the motorbike trip. Christy said "a night in my own bed and a long hot bath I feel somewhat refreshed but I think its going to take a little longer to recharge the batteries. It was over 2000 miles in the end, long days and and nights and a lot of fun and interesting people. I dropped in to see Carmel's niece in Penzance and had a very short visit with Karen (Frenchay Hospital in Bristol). We had a bit of a problem with my bike in Inverness that delayed us for a day ,as a result we had to make up time along the way ending in a 400 mile round trip to Land's End that took ten hours.

I received hundreds of texts along the way and I think I replied to them all but I'm not sure, i was on auto pilot some of the time. The post cards I promised I found in one of my bags today - although unsent they have splendid views and help to fill in the gaps in what was a hectic eight days. I also sent a lot of photos by phone but to who is a blur! I also still have those in the phone as well as a lot of digital photos in my camera."

Many of our members are still getting sponsorship for this trip, and since our annual Sponsored Walk is coming up on May 6th, some of us will collect for Christy's Trip and some for the Walk, as wished. Anyone else out there who is impressed by Christy's feat, email us for a sponsorship card, and help us to help those with Parkinson's to live a life with dignity, to have access to information, to have a chance to talk over problems, to be helped and to be of help - the latter as important as the former.


March 17th, 2007 - Christy arrived in Bristol last night!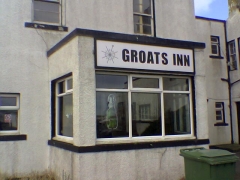 The photo shows John O'Groats pub and was taken by Christy at the start of the UK leg of the motorbike trip after crossing over on the ferry from Larne to Stranraer, after motorbiking it from Dublin to Larne - way to go Christy!


March 17th, 2006 - Christy Brophy had a successful operation.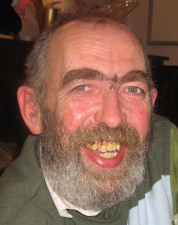 Deep Brain Stimulation, that's the operation he had, on St. Patrick's Day 2006, and now, almost one year later, he is going to travel from John O'Groats to Land's End - a fundraising exercise for PALS, but also a pilgrimage of thanks, as he will be stopping at the hospital that gave him back his life! Frenchay Hospital in Bristol was where it all happened, and he plans on arriving there on St. Patrick's Day, a year exactly to the day on which he had this operation!

Christy is leaving from Sean McDermott Street Church at 9.30 Saturday morning (March 10th) - why not go along and wish him well!

Read his story HERE,
and then why not make a contribution -

PALS Support Group
22 Elm Mount Road, Beaumont, Dublin 9

or download a sponsorship card HERE!
---

March 4th, 2007 - our next meeting!
Our next meeting is on March 4th at the Marine Hotel. Two guest speakers this time! Rosemarie Galvin, a physiotherapist doing research in TCD, and Asia Muras, a computer programmer doing a PhD there, will present on their research - the latter into the use of assistive devices in the different neurological disorders - PALS contributed to Asia's research via a questionnaire. Rosemarie's research was into the ability of sophisticated machines to measure the progression of Parkinson's compared to that of assessment by a physiotherapist. This research, the I-Match Project, was a collaboration between researchers in a number of countries, and PALS organised volunteers for the Parkinson's end of the research, taken from our own membership and that of the Dublin branch.
Both these researchers have attended some of our meetings before, and Rosemarie is also willing to answer questions concerning physiotherapy and Parkinson's. It should be a good afternoon - starting at 3pm!

October 2nd, 2006
Our next meeting is on this Sunday 8th, speaker to be confirmed. Following that, November 12th, and then our Christmas get together on December 3rd. I have been told that this year Santa plans a surprise! Cost per person is being held at €10 (including a meal), with the balance to be paid by PALS Support Group

An interesting year, with more and more young people with Parkinson's expressing an interest in Deep Brain Stimulation, and with Mr. Steven Gill's advice that sooner rather than later might give the best results (Brain Doctors, Part 5, shown on ITVWest last year) "when your dyskinesias are starting to become troublesome". Brought back from the World Parkinson Congress in Washington DC last February, a fridge magnet showing a pulse generator (!) with the words "do it sooner".

December 4th, 2005 - EUROYAPMEET, Dublin
Speakers included Mr. Steven Gill, neurosurgeon, who has pioneered new operating/imaging techniques for Deep Brain Stimulation for Parkinson's, preceeded by Prof. Tipu Aziz. Both spoke of a new target area which is hopefully even better than the present ones.
Photos on the PAI website: CLICK HERE
Other speakers included Dr. Timothy Lynch, whose special interest is in Movement Disorders, Canadian Specialist Dr. Jonathan Brotchie, Tom Isaacs, from the UK, who has had PD since he was 27, (Tom tirelessly works towards assisting in funding research, and lives in the optimistic expectation of a cure - he wants to be known as the "man who used to have Parkinson's"). Steven Gill says that Tom Isaacs is "determined" and "very driven". He is an inspirational speaker, and was named as the UK charity personality of the year in 2004.
The workshops went well with good reports back from the participants.
A host of other topics, including pregnancy (Dr. Edgar Mocanu, Ireland), sexuality (Gila Bronner, Israel), Wearing Off (Mariella Graciano, Luxembourg) were included. So too relationships, by a Dublin man, Dominic McGinley, a school Principal, and an ex-member of PALS Support Group - see the PALS Patient Pages for more on that - and an excellent speaker!
Mary Baker, the President of the EPDA, keeps her audience spellbound, and comes up with marvellous ways of saying things that are eminently quotable, and inspires her listeners, and delivered a moving address.
On Sunday, the Tanaiste and Minister for Health Mary Harney came to deliver the Closing Address, AND to sign the Patient Charter that forms part of the Global Declaration on Parkinson's.
On Monday, after everyone had departed, the General Assembly had three presentations, including one by Kirsten Bruun, a Danish woman who has been fitted with a Duodopa pump delivery system. A well thought out presentation, which electrified the audience - representatives to the EPDA from each of its member countries. This presentation was not included in the main conference because of pressure of time.
The hotel is newly built, state-of-the-art, and disabled friendly, and the staff were wonderful!
And the team - well, the core team has one representative from the PAOI, Una Anderson Ryan, assisted by Chairman Sid Rellis, one rep from PALS, Ann Keilthy, and was headed by the EPDA's Liaison and Projects Officer, Lizzie Graham, who, along with Carolyn Lovelesssteered us all in the right direction.
A member of the PALS group, Fr. Sean O'Neill, said Mass on the Saturday evening - our thanks to him for organising this.
Radio One's "This Week" programme on Sunday had a report on the event, and presenter Paul Maguire, who spent a large part of Saturday here, listening to speakers, and interviewing, gave a thoughtful and intelligent account of the day. On Sunday, RTE and TV3 reported on the conference, on the 6.01 News and News at 5.30 respectively, the former on the Global Declaration and the latter on the shortage of neurologists and on DBS.

March 31st, 2005
We have our sponsored walk coming up on May 8th - from the Marine Hotel to the Summit Inn, 3.7 miles, walkable by most, and a good day when the weather is fine - which it usually is! Our major fundraiser for the year, cards from David at 01 8510040
Lionel Lyster made his target and is still swimming! More anon, or see the Swimathon page CLICK HERE TO ACCESS.
Our thanks to Caroline Lynch, who is completing a psychotherapy degree, who spoke to us about helping to care for her mother who has Parkinsons, at our meeting on March 3rd. Caroline's level of commitment to looking after her mother on weekdays was inspiring, and more so when you consider that she has a young family, and working towards a degree also!

January 25th, 2005
Vice-Chairman Sean Doody join David as Co-Chairman, and we wish him well!
In other news, Our efforts to fund a Parkinson's nurse in Tallaght Hospital have paid off, - Niamh Bartley commenced work there on Monday 17th, and will train as a PDNS. Congratulations to Niamh and we wish her the best in this new job. And our thanks to the people who have financed this half time job.

December 19th, 2004 - Our pre-Christmas get together
With a sit-down meal and a Kris Kringle, this was a pleasant afternoon. Towards the end, David Magennis, our Chairman, announced that he is to resign at the end of the year, but isn't leaving the committee - he is our very heart.

November 7th, 2004 - Our next meeting
On November 7th - Sunday - at 3pm in the Marine Hotel, Sutton Cross, our guest speaker will be Dietician Aisling Snedker. This promises to be a good meeting, and as usual, there will be time for tea and a chat afterwards!

September 5th, 2004
Frank Dunphy, a T'ai Chi instructor, showed us how powerful T'ai Chi can be! T'ai Chi is increasingly considered to be a good way for people with PD to get exercise and relieve stress. Frank is willing to arrange special classes for numbers of 10 or up.

August 23, 2004
Dr. Lynch writes that the Neurological Institute at 57 Eccles Street will include the provision of "a drop-in centre for patients and families with neurological problems including Parkinson's disease." He adds that he expects to apply for planning permission in the near future. "To date, we have raised just shy of 200,000 euro for its renovation. We need to raise one million euro..."


July 29th, 2004 - PAL is new Mayor of Cavan Town:
After the recent local elections, Paddy Conaty was the successful candidate in the Cavan Town Council Election and was elected to the position of Mayor.Click here to read more

July 29th, 2004
Stacey Walsh, an Occupational Therapist in Cincinnati, Ohio, has just gone back to the USA after spending the month of July volunteering here in Ireland - giving something back! Stacey started planning this a year ago, with an email to us basically not knowing if there was anyone out there!
She turned out to be very enabling, caring and positive, and was full of good ideas.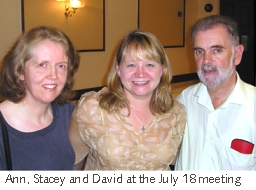 She worked in Dr. Lynch's Monday PD clinics, saw quite a few PWPs individually, presented at our July 18 meeting, worked with the Dublin Physiotherapy Clinic, and travelled to Limerick where she met PDNS Mags Richardson and spent the day with some of the patients. Many thanks to Mags herself for taking the time to meet, arrange and accompany Stacey.
Stacey's gentle manner and depth of knowledge impressed everyone. (She volunteers at home for the local "chapter" (branch) of the APDA).
Stacey also sought out her ancestral home in Cork, and what's more, found it!
The icing on the cake - Stacey will answer questions on the PALS website, as soon as it can be set up. A big thank-you, Stacey!

May 23rd, 2004
Our annual PALSWALK this year got the glorious sunshine it deserved!
Dr. Timothy Lynch, our Medical Director, walked with us, and was presented with two cheques at the Summit Inn, for the Neurological Institute/PDNS fund.
Three people with DBS finished the 3.7 mile walk, and there is talk of the Ladies Mini-Marathon next year! Congratulations to all who walked, whether the whole way or not. Thank you to those who sponsored, or sought sponsorship, those who minded us on the way up, and those who drove us down in their cars.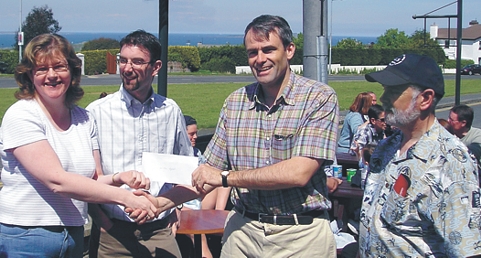 April 19th, 2004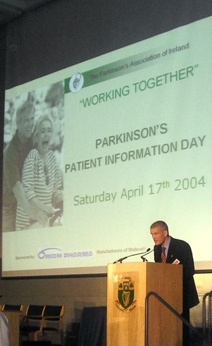 Well, we attended the first ever Parkinson's Information Day in the O'Reilly Hall, UCD, on Saturday 17th. There were over 700 attendees, the first of whom started arriving shortly after 8.30am! The program went from an Opening Address on Living Better by Mary Baker, MBE, then Dr. Doug MacMahon on the causes of PD, Dr. Gosal on Drug Management, Interdisciplinary Care Teams including the two current PDNS in Ireland, Surgery, including some fascinating videos of those who have completed two years on the clinical trial of growth factors (GDNF - Glial Derived Neurotrophic Factors) - videos shot at the start, the end of the first year and the end of the second year of the trial. The audience was completely silent, I think in the realisation that what they were watching were videos of people for whom Parkinsonian symptoms were disappearing, whilst their drug intake was diminishing over time. Contrary to the impression taken by some, having DBS does not rule you out from GDNF at some future date, as the bits and pieces inserted can be removed, leaving no trace (checked with Frenchay Nurse Specialist Karen O'Sullivan, who is a member of the team undertaking this research!).
Dr. David Burn gave a riveting talk on Depression in PD, and he was in turn followed by Dr. Brendan Colgan, who finished the afternooon off by delivering a sometimes funny, often moving account of his DBS operation in Grenoble last year. A fitting positive ending to a day of hope.
For some of those who helped to make this day such a success, this was a bittersweet day, as the Secretary of the Association, Hilary Marchant, passed away during the week. She was to be the Master of Ceremonies, and also Chair of Session Two. Chairperson Sid Rellis paid tribute to Hilary's generous contribution of her time and talent to the Association, and a minute's silence was observed in her memory.
The image above shows Paul Clinch, MD of Orion Pharma, major sponsors of the event, who acted as Master of Ceremonies for the day.

February 16th, 2004
Open Letter to the Minister for Health and Children, Mr. Micheal Martin
Yesterday, Dr. Brendan Colgan spoke to about 70 members and friends of PALS Support Group about his surgery. Two things about that meeting struck me. One was that, compared to his condition in the video taken of him in his pre-operative state, Dr. Colgan was a million times better. In fact, watching him stride into the room, he looked as though there was absolutely nothing wrong with him.
The other was that we had in the room that day, seven Irish people who had been lucky enough to have had Deep Brain Stimulation - four in Bristol, two in Oxford, and one in Grenoble. In a sense, Dr. Colgan's presentation was immaterial, because the evidence was there in front of the viewers. If there was ever a compelling reason for having this operation available in this country, it was visible in the eyes of the audience.
People with Parkinson's, spouses, carers, sons and daughters, all rapt with the wonder of the miracle.
The most emotional moment? When Maria Colgan, Dr. Colgan's wife, spoke about her experience of living with Parkinson's, and his operation, and the difference it had made to their lives. Her eyes filled and she controlled her voice with difficulty, but you could see the courage, commitment and love that surely must have kept them going during the difficult times.
Minister Martin, I am one of those lucky seven in the photograph. I am aware that my operation was paid for by the Irish Government, and I am grateful, and always will be, for that, but there are many more out there who could benefit from this operation, and even more so if it was available here. Beaumont Hospital has the equipment; could they have the opportunity to offer this operation here?