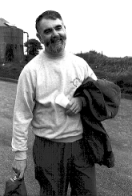 PALS Support Group (pdpals) has formally existed since November, 1998 and is the brainchild of its President, David Magennis, who has had PD since he was 28.

Because some of the challenges that younger people with PD face are different to those faced by those who are older, meeting and talking to others in similar situations about common problems can help greatly in facing life with PD.

PALS includes our spouses/partners/carers/significant others. We range in age from the mid-twenties up, and we come from all parts of Ireland. We meet about four to six times a year, usually in Dublin, but we have sometimes taken our meetings out of Dublin and will be doing more of this! Phone contact is the norm, but some like to meet, some like to write, some like to email, and some like to do all four! We have become good friends, and having a friend whose life situation is similar to yours can end the isolation many PWPs (People with Parkinson's) feel.

Some PALS prefer to maintain contact solely via the phone, and our committee are happy to take calls, just phone 087 2853117.
---

To contact our parent organisation, the Parkinson's Association of Ireland, phone 1 800 359 359 or 01-872 2234, Monday to Friday. If you phone and get the answering machine, leave a message and they will phone you back!