Last updated August 23, 2004
To end 2003

December 9th, 2003
David, our Chairman, had bilateral Deep Brain Stimulation of the STN on November 28th in Frenchay Hospital in Bristol. David returned home today, walking well, and on minute quantities of medication. To say he is delighted is to severely understate the situation!!

Sunday November 30, 2003
Our pre-Christmas Get Together will be on November 30 at the Marine Hotel. At 3pm, our Guest speaker: Rozanne Barrow, Senior Speech and Language Therapist at Beaumont Hospital.
Please bring along a wrapped present of approximately five euro in value, for a lucky dip.

Thursday October 9, 2003
The 2nd Golf Classic for the Neurological Institute took place on the 9th of October, at Hermitage Golf Club, Lucan. Twenty-nine teams entered, and twenty seven played. This year there was some corporate sponsorship, notably from Biogen and Pfizer.
We've come so far, but there's more work to be done. If you can help, phone Pauline Ward: 045 982189

Sunday September 28, 2003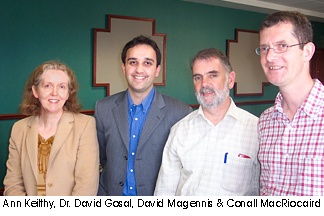 A well attended meeting heard Conall Mac Riocaird, the new Development Manager for the PAI detail his work and where he sees future developments, including new branches. Dr. Lynch's PD Research Registrar, Dr. David Gosal, brought us up to date on their research. They now need Controls, i.e. friends of the PWPs who have given blood samples, and those friends should line in the same area; also spouses, and other relatives who do not have PD.We will be organising a meeting to facilitate Dr. Gosal and the other members of the team in obtaining these blood samples.

Saturday September 6, 2003
The research done by Dr. Lynch and his team, with the support of the PALS members, who donated blood samples, was published in "Neurology" in June 2003 - Neurology 2003; 60: 1605-1610.

Tuesday July 15, 2003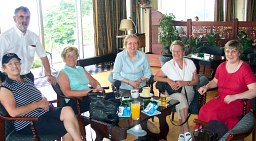 One hundred and twenty women played golf for PALS in the scenic setting of the Athlone Golf Club today, July 15th. It was hot and humid as David Magennis, and Ann and Sharon Keilthy made the journey, through frequent showers, to sunny Athlone.
Vanessa (right) met us, we had lunch and then went out to the Athlone Golf Club, Hodson Bay, where we met Vanessa's mother (second right), who, along with the Committee, had organised the event.
They were delighted with how many women turned up to play! Vanessa commented on the numbers of people there who indicated that they "were affected by PD, whether through their families or otherwise."
When we left, Vanessa was preparing to speak later that night on behalf of PALS, we had met the Lady Captain and a whole host of friendly golfers, and bought raffle tickets (guaranteed to win of course!).
Vanessa says that it has been suggested that it might be possible to make this event an annual or biennial event. She said also that great interest was shown at the prospect of the development of No. 57 Eccles Street as a Neurological Institute.
Our thanks must go to Vanessa, the Lady Captain Nora St. John, the Lady President, the Committee and especially Lola Lyster, and also those who sponsored the prizes. Total donations to PALS came to 1,299.50 euro.

Wednesday June 4, 2003
Our annual sponsored walk was a great success, with a strong family emphasis, and music at the end provided by the Abbey Tavern musicians! We hope to continue to assist Dr. Lynch in his fundraising efforts, as well as continuing to offer support.
Our next meeting will be on June 29th at 3pm in the Marine Hotel. A chance to learn about PD, and a chance to talk over a cup of tea.

Wednesday May 6, 2003
Brian Magennis started work as a Movement Disorder/Parkinson's Disease Nurse Specialist in the Mater Misericordiae Hospital on March 6th.
Brian hopes to help improve the quality of patient care for people with PD, whether seen as outpatients or inpatients.
He says that, according to the Parkinson's Disease Society in England, there should be one PDNS per 100,000 population…. A second PDNS is currently training in Cornwall, to be based in Limerick. That makes for one PDNS per 1,950,000!
Brian would also like, if possible, to be able to do some work in the community, including home visits. "Patients, especially those with advanced PD, are easier to assess in their own home environment, where they are more comfortable and relaxed, rather than in a hospital situation," he says.
He came home after his first day absolutely exhausted, as there was so much information to take in, but expects this will be very temporary! He would hope to have a contact phone number soon that people with PD could ring and leave a message—if they needed some advice, or needed something checked with their consultant, and Brian would hope to be able to assist as in so far as possible !
"I would like to thank all the PALS members and their families and friends for their constant support and encouragement over the past four years, and their generous monetary contributions towards the establishment of the Nurse Specialist position," Brian concludes.

Wednesday APRIL 2, 2003

Good news in today - PDNS Brian Magennis has been appointed Movement Disorder/Parkinson's Disease Nurse Specialist in the Mater, with half of his salary being paid by donations - it is a great step forward, and brings into the limelight that presentation detailed below! More details to follow. We wish Brian, whom we know to be a dedicated nurse, all the best in his new job, starting in early May!

SUNDAY MARCH 2, 2003
Our AGM, followed by a presentation by Dr. David Emmans, a psychologist at the International Parkinson's Clinic in Wolfach, Germany, on Living Well with PD.
This was followed by a presentation to our Medical Director, Dr. Timothy Lynch, of a cheque in the amount of 10,000 euro towards his planned Neurological Institute and/or part-funding a PDNS. He says that progress is being made - he recently received a verbal commitment from the Mater Hospital to allow the use of a house on Eccles Street for this purpose - a Georgrain building which will need complete renovation. Also, an ad for a Nurse Specialist with a special interest in Parkinson's disease has been placed in the national newspapers.
All in all, it was a day full of good news for people with PD, and will hopefully result in a vast improvement in the quality of care for PWPs. The image shows PALS Treasurer Marie Magennis presenting Dr. Lynch with the cheque!




Let our Minister for Health, Mr. Martin, know what you think regarding the provision of services for you - the Irish person living with PD.
Let the Minister for Services for Old People at the Department of Health and Chldren, Mr. Ivor Callely, know the same.
Do we need PD Nurse Specialists?
Do we need more support services?
Do we need to be able to access information about what help is available, rather than accidentally finding out about it?
Would it help to have someone at the end of a phone line who could answer questions/liaise on your behalf with the neurologist etc., and is there any service like this for people with PD in Ireland at present?
Do we need more neurologists?
Are fourteen/eighteen-month waiting lists acceptable?
Is the lack of a care team (neurologist, nurse specialist, physiotherapist etc.) acceptable?
Write or email your Minister or his Minister for State - they are there to represent you!

Minister Michael Martin
Minister for Health and Children
Hawkins House
DUBLIN 2

Mt. Ivor Callely, T.D.
Minister for Services for Old People
Department of Health and Children
Hawkins House
DUBLIN 2

Or send each a postcard? ( The same goes for your local TD...)

SUNDAY NOVEMBER 17 2002
Well, this meeting was a cracker, with Ciara Fitzsimons of the Assistive Technology Department in the Central Remedial Clinic providing plenty to talk about, along with quite a few hints and tips.
For example, if a person with PD has difficulty using the keyboard, he or she could get a voice recognition software package such as IBM's Via Voce, or Dragon's Naturally Speaking.
The hardest part of the installation and setting up of a voice recognition program is the setting up of your voice profile. The more time you spend on it, the more time you give your computer to recognise and transcribe your speech accurately. In addition, if you find that your speech is worse at certain times of the day, try setting up a second profile, designed to recognise words within a less distinct voice pattern, so that you could choose between the two profiles!
Ciara had one very simple solution for the problem of hitting the wrong key because of dyskinesia - a metal keyboard cover. This was a rectangle that snapped on down over the keyboard. The creative bit? There were holes in the keyboard cover so that you had to put your finger into the hole to press that specific key that was underneath. Because of its design you could only hit one key at a time, but while this is slow, it is accurate.
We are hoping to have the topic of the talk written up for this website.
Our thanks to Ciara for a clear and well-informed presentation, and for taking the time to answer questions afterwords!

SUNDAY MAY 19, 2002 - WALK REPORT
The day was showery. The walk had barely started when the heavens opened, and those of us who were doing the job of patrolling the route were still in the car park. We expected the eighty-odd walkers to return, but there were only two!
That set the tone for the walk. The line of navy hats stretched out further with progress up the hill.
The start.....

The Parkinson's Association of Ireland Chairman and Treasurer, John MacAnaney and James Vaughan respectively, came on the Walk also.

Once at the Summit Inn, thirsts were slaked and opinions voiced on the morning's work. [A special thank-you to the Summit Inn for allowing us to conduct our post walk review there!] Congratulations to all the PALS who walked and who were determined to finish, to quote one: "if I have to do it on my knees". What made it so special this year? Dr. Lynch and the Neurological Institute at the Mater Misericordiae Hospital. Hope.

The Shave took place amidst an atmosphere of encouragement and delight - no one wanted David to back out, as he lightheartedly said he would. Once he was set up behind the bar, his barber got to work, trimming at first, and finally the beard was gone.

His chin isn't going to see the light of day for much longer, as we gather the beard is on the way back again!

They may take a few moments to load but are worth the wait!


SUNDAY APRIL 28, 2002 - MEETING REPORT

Our guest speaker was Carol Morrissey, a holistic therapist, who offers reflexology, aromatherapy massage, reiki and indian head massage. Carol says that a holistic therapist deals with the WHOLE person, mind and body and spirit; not just the symptoms but the cause beneath them. We had a packed house, Carol was enthusiastic and interesting in her talk on Reflexology, and gave one PAL a reflexology treatment that left the PAL "walking on air" - a recommendation if ever I heard one!

Carol Morrissey's talk followed along the lines of the article on Reflexology in the Reflexology/Yoga section of the website - click on the link to the left to go to the page. We are grateful to Carol and to the Institute for permission to use this article! Carol's contact details are also on that page.

Dr. Wiley arrived about 4.30 and was whisked off to an adjoining room (thank you to the Marine Hotel!), where he and a cohort of helpers proceeded to take blood samples from a total of forty people.

A good afternoon, with lots of talk afterwards - your writer is generally dragged away from these meetings by her other half!

MONDAY MARCH 25, 2002

Dr. Lynch and PALS Secretary Ann Keilthy appear on "Nationwide" in an attempt to draw to the attention of the public and the Government the lack of adequate provision of medical services for people with a neurological condition in Ireland, and to hopefully motivate people to make a financial contribution towards the setting up of The Irish Neurological Institute at the Mater Misericordiae Hospital. This would include the purchase/renovation/staffing of a Georgian house on Eccles Street. It also showed the house Dr. Lynch is attempting to fund the purchase of - it DOES need renovation! Dr. Lynch mentioned our website to the reporter, Erica Roseingrave, telling her about how he answers queries on PD (and more on occasion) sent in from all over the world.

Ann participated at Dr. Lynch's invitation, as a private individual who had put together a website to help others in the same situation as herself.
SUNDAY FEBRUARY 24, 2002

Our next meeting will take place in the Marine Hotel in Sutton on Sunday February 24 at 3pm. Programme for the afternoon: Our AGM, followed by a cup of tea and a chance to meet others and exchange stories and ideas. We will have the video of Mr. Steven Gill's talk with us for those of you who would like to watch it.


SATURDAY DECEMBER 23, 2001

Gladys Magennis, the mother of our Chairman, David Magennis, died on Friday December 22nd, aged 88. We extend our sympathy to David, his wife Marie, and the other family members.


OUR DECEMBER 1st, 2002 PALS MEETING

Mr. Steven Gill arrived safely despite the best efforts of one airline to frustrate his plans (albeit 24 hours late)! He talked for about 90 minutes to a packed room, and held everyone spellbound. He had a message of hope - new techniques are being developed all the time. He detailed one safety trial he had undertaking, where GDNF (Glial Derived Growth Factor) was being delivered to the brain in minute but timed doses via a (Medtronic SynchroMed) pump. This six month study is coming to an end, Mr. Gill said only to "Watch this Space"! Another development is that he now operates to insert stimulators while the patient is under general anesthetic, using sophisticated software to ensure maximum accuracy.
Postscript: April 17, 2002

Mr. Gill presented his GDNF delivery trial research findings to the American Academy of Neuroscience Conference in Denver, Colorado, and they have generated great excitement - but, he cautions that, even if everything goes well, it will be four or five years before the technique becomes mainstream. His patients on this trial are apparently improving at a constant rate, and at a rate which surprised Mr. Gill and his team."We thought that this drug would take some months or years to be effective - we found that really within a month or two patients were noticing significant changes."
SATURDAY DECEMBER 1ST, 2001 - OUR NEXT PALS MEETING

This meeting will start at 1pm, in the Marine Hotel in Sutton. The unusual time and day is because of other commitments made by our guest speaker, but we think it will be well worthwhile!

Our speaker is Mr. Stephen Gill, Consultant Neurosurgeon at the Frenchay Hospital in Bristol. Prior to this, we were privileged in 1999 to have Karen O'Sullivan, a Movement Disorder Nurse who works with Mr. Gill, speak to us at a PALS meeting. We expect that the upcoming meeting will be well attended, so we would urge you to come early!

Because of the interest shown in this meeting, we are extending a welcome to our members, and to anyone who would like to attend.