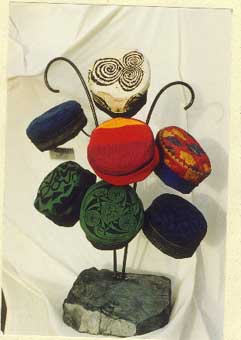 Hats by mail order. Stonelight design and make reversible hats. Designs are silkscreen printed in our studios. Hats come in medium and large sizes.
Wide range of high quality non printed fabrics availible. Ask for any colour combination. Suitible for wholesale. Contact us for more details.

Hats to order IR £ 22 + P & P (IR £5). Visa /mastercard accepted.
Home | Background | Contact us | T Shirts | Hats | Woodblocks | Geomancy | Links
E mail: Stonelight
All images & text, copyright Stonelight 1999 - Updated 15 December 2000