Dictionary of Bird Names in Irish
<![if !supportEmptyParas]> <![endif]>
(For those with just a casual interest look at the Irish-English Dictionary and click on each !!! to see the more interesting items.)
<![if !supportEmptyParas]> <![endif]>
Updates (latest: 25 February 2002)
<![if !supportEmptyParas]> <![endif]>
<![if !vml]>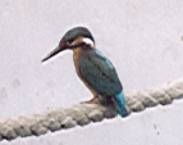 <![endif]>
          Kingfisher / Cruidín
<![if !supportEmptyParas]> <![endif]>
Please send comments to the compiler - Colm Ó Caomhánaigh from Dublin  cocaomh@gofree.indigo.ie
<![if !supportEmptyParas]> <![endif]>
Reading W.B. Lockwood's The Oxford Dictionary of British Bird Names (Oxford University Press ISBN 0-19-866196-7) inspired me to look into the meaning and origin of bird names in Irish.  I do not speak Irish, though I learned it at school like everyone else.  Most of my research on the bird names has been through the dictionaries and other books noted in the texts.  I am hoping to get access to some older dictionaries which may yield more results.
<![if !supportEmptyParas]> <![endif]>
I have organised my information into a dictionary form and would be very pleased to hear opinions on the theories.  In particular, in the Irish-English section I have tagged with an * names for which I have no probable explanation – many of them the more common names which have probably changed most over the years.  The pictures are my own.
<![if !supportEmptyParas]> <![endif]>
I am sure that someone has done more formal work on this subject and if anyone can direct me to it I would be much obliged.
Dónal Dalton from Passage, Co. Cork also contributed many ideas.
<![if !supportEmptyParas]> <![endif]>
<![if !supportEmptyParas]> <![endif]>
In case of any doubt about which species an English name denotes, consult the following tables which give the standard scientific (Latin) names.
<![if !supportEmptyParas]> <![endif]>
English-Latin-Irish Dictionary (Standard names only)
<![if !supportEmptyParas]> <![endif]>
Irish-English-Latin Dictionary (Standard names only)
<![if !supportEmptyParas]> <![endif]>
Latin-English-Irish Dictionary (Standard names only)
<![if !supportEmptyParas]> <![endif]>
Powered by counter.bloke.com
(count since 9 March 2001)