Vire BVR
Good news for Vire BVR

owners !

Thanks to Nick Le

Feuvre

, they now have their own dedicated Vire BVR website.
More recently, Nick has started to develop his own Vire 7 website too.
If you've linked directly to this page, you may have missed the site menu. If you don't have a menu bar (at left), then click here for a menu.
The Vire BVR is a predecessor of the Vire 7. It develops 5.5hp @ 2000 RPM and 6.5 hp @ 2800 RPM, so you will sometimes see it referred to as a Vire 6. The series was originally known in Finland as the 103 series, but that designation is rarely or never used nowadays. It was promoted as an auxiliary engine for pleasure yachts up to 25 feet (7.6 metres) in length.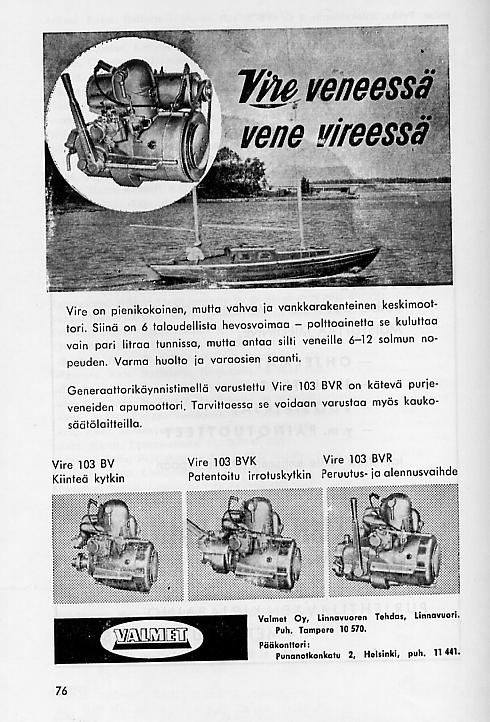 If you want photos of a Vire 6, there's a Finn who has a collection of Vire 6s (at least four, as far as I know). You'll find his new website at http://kotisivu.dnainternet.net/vire6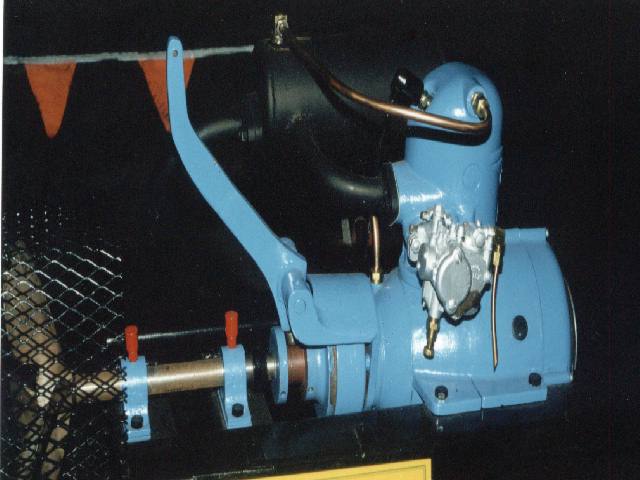 The picture above is of a Vire BVK, one of a series of closely related engines:-
Vire BV - Direct drive, i.e. no clutch or gearbox

Vire BVK - Clutch model (no reverse)

Vire BVR - With reduction and reversing gear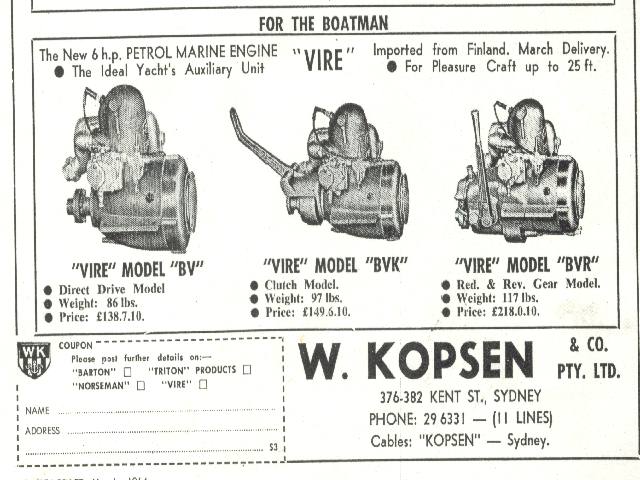 The Vire BVR is easily distinguished from the other models; as well as the obvious difference in appearance, the Serial Number has the letters BVR in the middle of it, e.g. 03BVR13217, 03BVR14437-70, etc. The Serial Number is usually printed on a small plate on the front of the engine, just beneath the Vire name.
Manufacture of the Vire BVR ceased around 1970 and parts are very hard to get. Nevertheless, some are still in use. In the twelve months between August 2001 and August 2002 the Webmaster was contacted by twelve Vire BVR owners in different parts of the world. Some had a working engine, some were restoring an engine, and one was giving up and wanted to replace his BVR with a Vire 7. To date, Vire BVR owners have made contact from:-
In January 2003, the Webmaster was contacted by a Vire BVK owner in Italy, and there's another in Australia (although he's not on the Web). Is there any other BVK owner out there ?
The original Vire BVR manual is available as two very big Acrobat (.pdf) files:-
You'll find a scanned copy of an article from Practical Boat Owner on the Vire BVR website run by Nick Le Feuvre. It's a neat summary of the routine maintenance of these engines, and the files are smaller than the complete manual.
If you don't already have it, Adobe Acrobat Reader is available as a free download.
Since its inception on 8th April 2001 this Website has dealt primarily with Vire 7s. This Vire BVR page was created on 14th July 2002, in response to a fairly steady trickle of enquiries from BVR owners. The Webmaster didn't have the time or the knowledge to provide direct assistance to owners of Vire BVRs but, as a service to them, they could have their contact details published here. Since 26th February 2004, Vire BVR owners have had their own dedicated Vire BVR website, so this page is no longer as necessary as it was. However, the Vire 7 Webmaster will continue the listing sevice, at least for the time being.
Vire BVR Owners
Name

Location

E-mail Address

Graham Ash

New Zealand

James Bailey

England

Daan Balk

Netherlands

John Blevins

Texas, USA

Tjeerd Bolhuis

Netherlands

Johan Coertze

Johannesburg, South Africa

Slawek Feikis

Toronto, Canada

Jim Giles

Stockton, California, USA

John Gridley

Los Angeles, California, USA

Edward Hay

Cornwall, England

Markku J Heikkinen

Finland

Jim Hershey

Texas, USA

Geoff Holbert

Australia

Ron Karvonen

Michigan, USA

Daniel Koerber

Le lac Leman, Switzerland

Brian Larzelere

New York, USA

David Leasia

Detroit, Michigan, USA

Nick Le Feuvre

Dorset, UK

nickREMOVETHISmail@btinternet.com

Phil Lovett-Darby

Toronto, Canada

Rory Napier

Scotland

Pål Nilsen

Norway

Bengt Norling

Kaitsu Paananen

Sweden

Finland

Jim Park

Scotland

Bob Schlueter

Michigan, USA

Ole Sigersted

Göteborg, Sweden

Nigel Thomas

England

David Tocher

Ireland

Joost Wesseling

Netherlands

Renato Zaccaron Gonzaga

Brazil
If you're interested in being listed, just E-mail your details to the Webmaster.