About us
hardPressed poetry is a small press which publishes poetry that you won't often find in your local bookshop. Since 1997, we have also distributed books by other publishers.
Poets we publish and/or distribute work by include Brian Coffey, Randolph Healy, Trevor Joyce, David Lloyd, Tom Raworth, Maurice Scully, Geoffrey Squires and Augustus Young as well as ourselves, Catherine Walsh and Billy Mills.
We also published two issues of a magazine, the Journal, which is currently dormant.
We have also produced a number of card-poems and other smaller items which are not listed here. Please enquire if interested.
Recent additions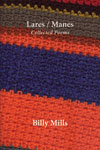 Shearsman Books' have published Lares/Manes, the collected poems of Billy Mills. Order direct from the Shearsman online shop.

Shearsman Books' edition of City West by Catherine Walsh and a home-made CD, Bodysounds, featuring sound and text pieces by Catherine Walsh and Billy Mills.

Reviewing City West on the Terrible Work Web site, Tim Allen writes: Catherine Walsh should be up there with the high-flying American innovative writers, having her work discussed in seminars and published in glossy university magazines but instead she keeps a low profile in Limerick and seems to be largely ignored. Her innovative work is far superior and so much more important than the output of the silky stylised clones appearing on institutionalised avant websites etc,.