Senior Citizen Advice
Why Advice just for Senior Citizens ?
The reason that the Garda Síochána has developed this special set of guidelines is because the Gardaí feel that older people may experience different kinds of problems. This may be because they live alone, or just because they are less active than they were in earlier times. Because of this, senior citizens may feel more vulnerable and experience a greater fear of crime.
Is there Greater Cause for Concern ?
The fact is that elderly people are less often the victims of crime than many of their younger neighbours. Cases of assault are very infrequent, although we would all be much happier if they never happened at all. Senior citizens are, however, subjected to burglary and thefts as often as the rest of the population. There is need to take care. By taking the following steps, you are making a good start to improving your personal safety.
Be Careful with Cash
Remember that thieves want property, and particularly cash. Therefore, only have as much money in your possession as you require for your immediate needs. There are lots of ways of paying bills without using cash. Advice on money matters is freely available from Banks, Building Societies, Credit Unions, Post Offices, etc. Thieves often grab handbags thinking they contain valuables. Leave your handbag at home! When out shopping, carry sufficient money and any keys in an inside pocket.
Mind your Property
The Gardaí can advise you on how to mark property with your own property number. This makes it less attractive to thieves, and also easier for them to return it to the rightful owner when it is recovered.
Check on Callers to your Door
Fit a door viewer. Then you can safely see who any caller is, without having to open the door. A door limiter enables you to open the door partly, and still maintain some control over entry. If you think any caller looks suspicious, DON'T LET THEM IN! You can tell them that you are busy, and get them to call back when someone else is at home with you. Remember, if the person is genuine, they will appreciate your fears and will not mind calling back, or proving who they are.
Official callers should have identification cards. Always ask to see one. Even if the person is dressed as a Garda, you can still ask to see such a card. Treat door-to-door callers (who are not known to you) with caution.
Be a Good Neighbour
We recognise that one of the best aids to crime prevention is a good neighbour. This is someone who will keep an eye on your house when you are away, and who will call to make sure that everything is well. Good neighbours are part of Neighbourhood Watch - join if you can. Once again, if you have any questions about this contact your local Garda Station or Neighbourhood Watch co-ordinator.
Lock Up
There is no need to turn your home into a fortress. However, it is important to have good locks fitted to your windows and all external doors. Lock them every time you leave the house. If you make an effort to do this regularly, it should develop into a habit, and that way it will be less likely that you will forget. Advice is available from your Garda Crime Prevention Officer. Just contact you local Garda Station and they will put you in touch with him.
---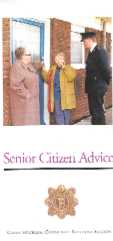 The information on this webpage is also available in a free booklet, available from your local Garda Station. If you live in Prospect Manor, the booklet is also available from your Local Area Co-ordinator.
Other booklets are also available free of charge.
An Garda Síochána - Here to Help