| Home | Officers | News and Notices | Useful Links |




Club Location
Celbridge Paddlers Canoe Club is situated at Aylmer Bridge on the Grand Canal about two miles south west of Celbridge town in County Kildare, Ireland.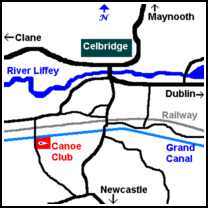 A Brief History of the Club
Celbridge Paddlers canoe club was founded in 1982 by a small number of enthusiasts living in Celbridge. For the first couple of years the club operated without a clubhouse and club equipment was stored in members houses and gardens. Canoeing activity was centred mainly on the river Liffey at Celbridge.
The club grew rapidly and over the years occupied several temporary premises around the Celbridge area both on the Liffey and on the canal. At one stage in the early 1990s the club existed purely as a 'roof-rack' operation while the search for a permanent home went on. In 1994 the club was fortunate to be offered an excellent site on land owned by University College Dublin at Aylmer Bridge on the Grand canal.
Finally settled in a permanent home the club has since been concentrating on developing it's facilities and it's paddlers and has become one of the most significant and successful canoe clubs in the country.
Our current membership (approx. 120) is drawn mainly from the Celbridge and surrounding area and we are very much a part of the local community with close links to local schools.


Activities
Celbridge Paddlers is traditionally a marathon racing club and we have been very successful both at home and abroad at marathon and sprint events. In more recent times we have started to become involved in other canoeing disciplines such as Canoe Polo, Freestyle (Rodeo) and Wild Water racing. We also engage in many other water-borne activities (see below). The canal provides a safe environment for beginners and also provides an ideal flat-water training location for serious marathon and sprint squad sessions.
In general, the main on-the-water activities include -

basic instruction for beginners

family paddles (Sunday mornings)

training sessions for competitive paddlers

river trips (for both instruction and leisure)

competitive racing and eventing both in Ireland and abroad

indoor pool sessions during the winter months

Facilities and Equipment
The club is still at an early stage in it's development and the eventual aim is to build a clubhouse with all the facilities normally associated with a successful sports club.
The club is currently housed in four 40 ft. steel containers which have been modified to incorporate changing rooms, boat storage, and equipment storage. There is extensive car parking space on the site and also a lawn which we use for barbecues and social events (Summer only!). Both the site itself and the canal bank adjacent to the site is floodlit enabling training on Winter evenings (strictly for the lunatic fringe!)
The club has several sets of plastic canoes (Perception Dancers and Foxs), paddles, helmets, buoyancy aids and spraydecks which are used for training juniors and beginners. The club also has a fleet of K1s, K2s and a large assortment of other boats which are available to members. We are also the proud owners of two competition standard K4s. Most members own their own boats and equipment which they may store in the club (space permitting).

---
Contact us at cpaddlers@hotmail.com