Tiny Tach tachometers are available from:


Design Technology Inc.
768 Burr Oak Drive
Westmont
IL 60559 (Chicago suburbs)
USA
***********
International Telephone: +1 (630) 920 1300
International Facsimile: +1 (630) 920 0011
E-mail: help@tinytach.com
Tiny Tach offer a variety of tachometers, suitable for single-cylinder or two-cylinder, two-stroke or four-stroke petrol / gasoline engines, with prices for digital tachometers starting from $39.95US (32.67 Euro) (Price at August 2005). Their TT226NR-2C and TT226R-2C models are suitable for the Vire 7.
Webmaster's Comment - Thanks to Norm Bailey, Canada, for telling me about this manufacturer.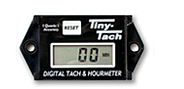 Click the "Back" button on your browser to return to the previous page