Safety for Women
Why this Advice ?
This advice is not just for women, although it should be of particular interest to them. Everyone has a part to play in reducing crime and, also of great importance, in reducing the fear of crime. By being aware of the anxieties to which some people may be subject, and by displaying a willingness to help, we can make our country a safer place for everyone.
Why Women ?
Women may be victimised simply because they are women, or because their property is seen as more vulnerable due to individual life styles and perceived lesser physical strength. Basically, we can divide threats against women into attacks that are physically, sexually or property orientated. To put this into context it is important to realise that in Ireland crimes involving physical violence of any kind are amongst the lowest in Europe. As this knowledge is of little comfort to a victim, our aim is to provide you with sufficient awareness to avoid becoming a victim.
On the Street
Don't carry a handbag unless it is absolutely essential. Then, don't carry any valuables in it and be prepared to let it go.
Don't advertise your jewellery or other valuables.
Walk facing traffic, so that vehicles cannot approach from behind without you being aware of their presence.
If alone, avoid dark and empty streets and passages. Try to arrange a lift if you're travelling at night, or hire a taxi.
If you think you are being followed go straight to the nearest place where there are people, even a private house. Then ring for the Gardaí.
In the House
Fit mortice locks to all external doors. Choose solid doors without glass panels. Windows should also be fitted with locks. And having fitted those locks, use them.
If you live alone, don't advertise this fact. Use only your initials and surname in telephone directories or on doorplates.
Don't admit callers to your home without being satisfied that they are genuine. Have them call back when you have a friend at home.
At night, draw curtains or pull down blinds, to avoid unwelcome scrutiny.
Have your front door key ready to use as you approach the house, so that you are not fumbling in your bag on the doorstep.
If the house appears to have been burgled, don't go in - the intruder could still be there. Go to a neighbour and ring the Gardaí.
In the Car
Get into the habit of driving with your doors locked.
Don't pick up hitchhikers or strangers, even if they appear to have broken down; you can always ring the Gardaí to come and enquire.
Never leave your handbag within view. Tuck it deep under the passenger seat.
Park in well-lit places, preferably with lots of people around.
Before leaving the car, look around to ensure that there is nobody loitering in the vicinity. On your return, do the same and this time have your car key ready to use.
Reporting Crime
One of the greatest deterrents to criminals is the fear of being caught and punished. Of course, this will never happen if the Gardaí are unaware of the crime. The sooner you call the Gardaí, the sooner they can begin to investigate. The Garda Síochána, both male and female members, appreciate that victims ae not at fault and that the guilt lies with the criminal. Furthermore, the Gardaí are sensitive to the wishes of victims and will endeavour to provide either a male or female Garda according to the victim's needs.
If you become a victim of any crime, you should report it to the Garda Síochána.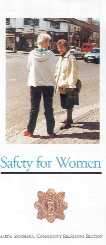 The information on this webpage is also available in a free booklet, available from your local Garda Station. If you live in Prospect Manor, the booklet is also available from your Local Area Co-ordinator.
Other booklets are also available free of charge.
Call the Garda for Help